Festival Film Dokumenter (FFD) is one of the Forum Film Dokumenter programs that focuses on being actively involved in the documentary ecosystem by holding film exhibitions and inclusive discussion forums. After the previous two years being held online, this year's festival is being held at eight locations with Gedung ex Bioskop Permata as the main venue. FFD 2022 takes place for six days from November 14-19 2022. This year's programs do not only focus on the development of documentary films, but also the importance of maintaining interactive discussion and meeting forums that offered to be a space for distributing knowledge and perspectives through documentary mediums.
We received a total of 411 film submissions from 46 countries including Indonesia, France, Taiwan, Poland, and Germany. The highest number of submissions from Indonesia provinces including Central Java, DI Yogyakarta, DKI Jakarta, East Java, and West Java.
The submissions were selected by a selection committee consisting of 12 people with various backgrounds as film practitioners, researchers, and academics. Selected films are categorized into competition and non-competition programs with the following details: International Feature–Length Documentary Competition consists of 8 films, Indonesia Feature–Length Documentary Competition consists of 3 films, Short Documentary Competition consists of 8 films, Student Documentary Competition consists of 3 films, Non-Competition Program: Lanskap consists of 9 films, Non-Competition Program: Spektrum consists of 8 films, Non-Competition Program: Perspektif consists of 6 films, and DOC Interactive consists of 4 films. Read the full report on FFD 2022 competition program awardees here.
There are a total of 57 films in 44 screening slots shown in several screening locations, which are Gedung ex Bioskop Permata, IFI-LIP Yogyakarta, and Bioskop Sonobudoyo. A total of 19 question-and-answer sessions after the screening were attended by filmmakers and led by moderators from the selection committee or FFD 2022 program team representatives.
During six days of FFD 2022, a total of 2,841 people visited and took part in our programs. All visitors are counted based on their attendance as moviegoers, visitors to the opening, closing and awarding ceremonies, DOCTALK participants, and DOC Forum participants. Based on this number, 84.2% of visitors are from DI Yogyakarta including Yogyakarta, Bantul, Kulon Progo, Sleman, and Gunungkidul. The distribution of our visitors come from is as follows: 7% from Central Java (including Solo, Klaten, Semarang, Magelang, Boyolali, Kendal, Karanganyar, Kebumen, Purworejo, Purbalingga, Temanggung, Tegal, Wonogiri, and Pekalongan); 3.9% from DKI Jakarta; 2.7% from East Java (including Bojonegoro, Malang, Blitar, Surabaya, Boyolali, Kediri and Mojokerto); and 2.2% from West Java (including Ciamis, Bogor, Bandung, Depok and Subang). The distribution of other regions is 4.4% includes Banten, Papua, West Sumatra, North Sumatra, Aceh, Bali, West Nusa Tenggara, East Kalimantan, West Kalimantan, Central Sulawesi, England, Germany, Jordan, and Australia.
There are five age groups for FFD 2022 visitors. The distribution is as follows: 10–17 years old is 2.6%, 18–25 years old is 63%, 26–35 years old is 26,1%, 36–50 years old is 6.9%, and older than 50 years old is 1.3%.  
The data showed that there were various visitor professions. As for a total of 2,841 visitors, the following shows most 5 professions: 49.7% were university students, 7.4% were students, 7% were art practitioners, 5.8% were freelancers, and 4.8% were filmmakers. In addition, there were teachers, researchers, employees, archivists, housewives, journalists, entrepreneurs, and film practitioners in other categories as much as 25.2%. Those included in the category of art practitioners are visual artists, musicians, photographers, art curators, illustrators, graphic designers, and animators; while those included in the film practitioner are film exhibitors, film researchers, film distributors, film festival programmers, and critics.
Based on the data of FFD 2022 visitors, 45.3% of them are identified as female, 53.5% are identified as male, and 1.2% are identified as non-binary.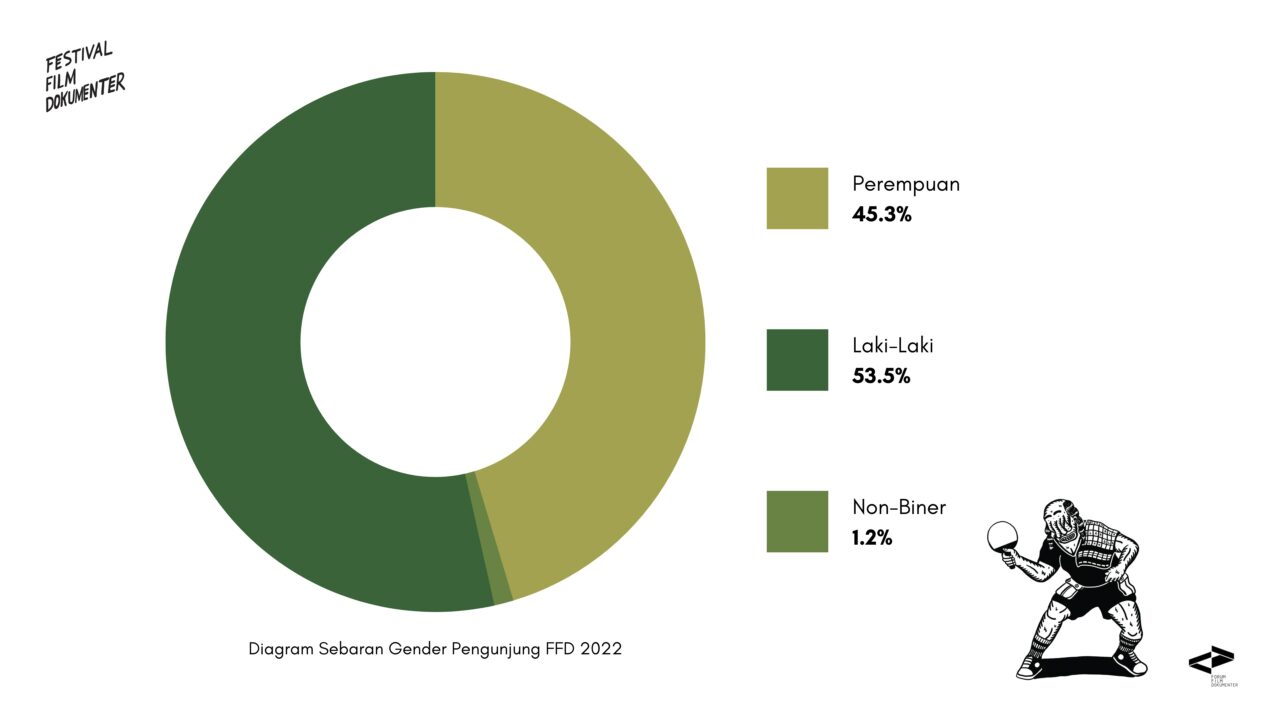 A total of 83 guests consisting filmmakers, judges, DOCTALK and DOC Forum speakers, programmers, and workshop participants attended the festival. The distribution of FFD guest domiciles is as follows: from Indonesia (including Aceh, Bali, Blitar, Bojonegoro, DKI Jakarta, DI Yogyakarta, Jambi, Jayapura, Kupang, Padang, Palu, Purbalingga, Purwokerto, Singkawang, Solo, and Sumbawa) is 87.1%; from Singapore, Japan, and Malaysia are 3.2%; and from the Philippines and Thailand are 1.6%.
This year, for the first time  DOC Forum was held with the target of film communities across Indonesia. DOC Forum focuses on discourse on the development of knowledge, medium practice, and documentary networking. There are several discussions led by art and film practitioners that are held at the GAIA Cosmo Hotel. The entire DOC Forum programs include discussions on the development of the documentary ecosystem, the works behind documentary film exhibitions through festivals, festival and city sustainability, documentary production management and dynamics, and the sustainability of documentary spaces.
DOC Forum participants are from Aceh Documentary (Aceh), Sumbawa Cinema Society (West Nusa Tenggara), Komunitas Film Kupang (East Nusa Tenggara), Papuan Voices (Papua), Festival Film Purbalingga (East Java), ISI Padang Panjang (West Sumatera), Komunitas Film Jambi (Jambi), Canopy Pontianak (West Borneo), Forum Sudut Pandang Sinekoci (Central Sulawesi), Solo Documentary (Central Jawa), Komunitas Film Tulungagung (East Java), dan Rumah Alternatif Ebhoma Bojonegoro (East Java). 
FFD 2022 also held public discussions and presentations that are open to the public at Sagan 20, ISI Yogyakarta, and Universitas Sanata Dharma. The program entitled DOCTALK focuses on specific discussions on documentary developments through various perspectives. There were seven DOCTALK discussion sessions, including, Alternative Distribution of Documentary Film; Incompleteness; Now is the Past – My Father, Java, and Phantom Films; Documentary Film & Festival Programming in SEA; Film, Archives, and Memories as a Process to Heal the Wounds of the World; Networking in Indonesia Documentary Film Production; dan Storytelling and Creative Documentary.
A total of 133 participants have participated in DOCTALK. As many as 67.7% of the participants are from DI Yogyakarta including Yogyakarta, Sleman, and Bantul; 6.8% of participants are from Central Java including Semarang, Solo, Magelang and Jepara; 5.3% of participants are from West Java including Kuningan, Bekasi, Bogor, Sukabumi and Bandung; 5.3% of participants are from DKI Jakarta; 3.8% of participants are from Aceh (Banda Aceh); and 11.3% of participants are in other categories including Australia (Canberra), Banten (Tangerang), Jambi, East Java (Malang and Nganjuk), East Nusa Tenggara (Kupang), West Kalimantan (Pontianak), and West Sumatra (Padangpanjang). From the data, 61.7% of participants were in the 18–25 years age category, 24.8% in the 26–35 years age category, 10.5% in the 36–50 years age category, and 3% in the over 50 years age category.
From 133 participants, 62.4% were university students, 9% were filmmakers including directors, producers, and cinematographers, 7.5% were film practitioners including film distributors, film programmers, and film exhibitors, 6.8% were employees, 6% are lecturers, and 8.3% are in the other category which includes art practitioners (dancers, visual artists, and musicians), freelancers, and archivists.
FFD 2022 was organized by 98 committees consisting of 30 personnel and 68 volunteers excluding 12 production team partners and 2 collaborating artists. FFD 2022 publicly recruits volunteers by open submission within a period of one week from 2–7 October 2022. This year's festival volunteers come from various universities and field of studies.
26.1% volunteers study in Universitas Gadjah Mada, 8.7% volunteers study in Institut Seni Indonesia Yogyakarta, 7.2% study in Universitas Muhammadiyah Yogyakarta and Universitas Ahmad Dahlan, 5.9% volunteers study in Universitas Amikom Yogyakarta, and 44.9% volunteers study in various university including AKRB Yogyakarta, MMTC Yogyakarta, Universitas Atma Jaya, Universitas Dian Nuswantoro, Universitas Negeri Yogyakarta, Universitas PGRI Yogyakarta, Universitas Teknologi Yogyakarta, Universitas Sanata Dharma, and UPN Veteran Yogyakarta.
In general, FFD 2022 would not be held without the full support from our partners. We humbly thank Kementerian Pendidikan, Kebudayaan, Riset, dan Teknologi Republik Indonesia; Dinas Kebudayaan (Kundha Kabudayan) Daerah Istimewa Yogyakarta; BFI Finance; Pura Pakualaman; Institut Français Indonesia; In-Docs; Program Magister Kajian Budaya Universitas Sanata Dharma; Kamisinema; and all of our accommodation partners which are GAIA Cosmo Hotel, Puri Pangeran Hotel, and Sagan 20. We would also like to thank all of our participants and visitors that committed to be part of this year's festival. We will be seeing you at FFD 2023!