Thursday (Dec 4), Festival Film Dokumenter (FFD) 2019 held a DocTalk Session entitled Short Films and Longed Democracy in Kedai Kebun Forum. Moderated by Adrian Jonathan Pasaribu (founder of Cinema Poetica), this session welcomed Fransiska Prihadi (programmer of Minikino Film Week), Aryo Danusiri (filmmaker and researcher), and Jesse Cumming (associate programmer of Toronto International Film Festival).
The discussion began with two questions: What is democracy? What kind of democracy do we want? Adrian told that the indicator of a healthy democracy in a country was the availability of films for its citizens. The more variety of films there were, the more open the citizens to diversity, differences, and newness. However, at the moment, films playing at Indonesian commercial cinemas had to go through heavy censorship.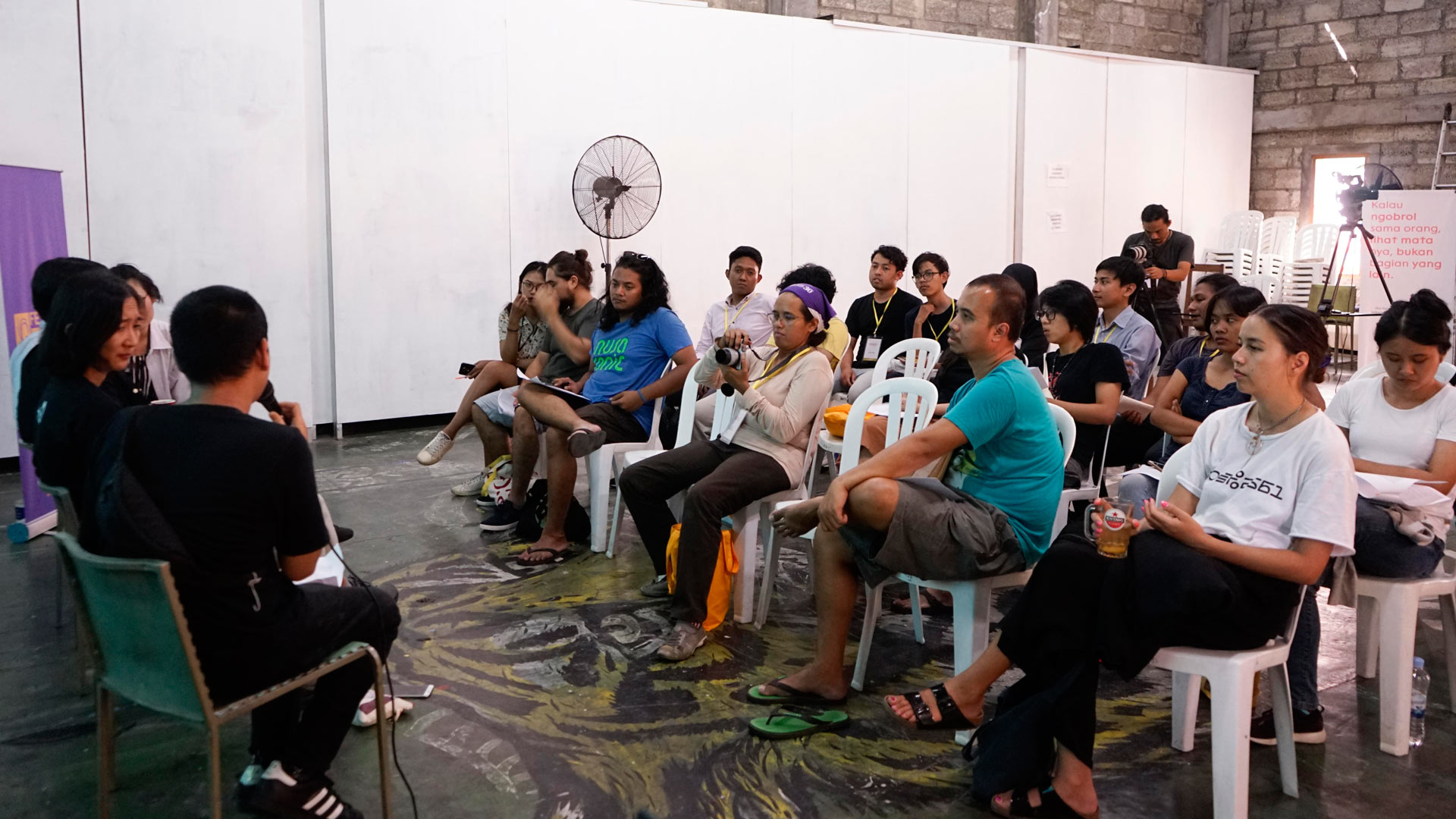 Fransiska asserted that Minikino had always been supporting a safe discussion space for all. For instance, Minikino adjusted the films screened according to the characteristics of the audience. 85% of Minikino regular audience went to pop-up cinemas held at three different villages in Bali. For films that are open to interpretation —the controversial ones— Minikino held microcinema screenings at the more intimate places. "We carefully vet and edit out terms from the catalogs that might be associated with controversial issues, such as LGBT. Minikino believes that there is no use being frontal if it eventually scares people away," said her.
Aryo and Jesse, however, had different views. Aryo argued that the talk about film and democracy so far revolved only around economic and political aspects. Democracy, as a consensus, gave birth to the construct of what was taboo and what was not. "Why don't we realize that Indonesian films are not only about economy and politics? We talk about distribution, about how films enter cinemas, frequently. However, when will we talk about our ideology about such films?" he added. He also said that aesthetics and intrinsic elements of films were rarely discussed, except for short films. He added that there was a view that deemed short films to be merely shortened versions of feature-length films.
More questions emerged. Are short films free of the hegemony of feature-length films? Are images merely means of political issues? Are images sovereign?
Jesse, on the other hand, questioned the boasted freedom in democracy, including in filmmaking. These days, more and more people purposefully degraded the quality of their pictures —using lo-fi photography techniques— for the so-called aesthetics. Lo-fi photography, which had initially emerged out of limitations of access and facility, now served as an accessory for those who actually could afford high quality pictures. He questioned, to what extent was filmmaking free? Were there particular constraints? Did quality of pictures subconsciously affect the freedom itself?
Written by Nizmi Nasution
Translated by Khoirunnisa Azzahra