The implementation of Festival Film Dokumenter 2017: 'Post-Truth' has ended on December 15th, 2017. Awarding and Closing Night became the last event series since opened on Saturday (9/12). Took place at Societet Building, Taman Budaya Yogyakarta, Closing Night FFD 2017 was also screened the film winner of Student Documentary Competition after the awarding ceremony ended.
Before the winner of each category of competition being announced, represented of the jury board member one by one delivering the film nominees and giving last evaluation for the submitted film from several country in the world in Feature-Length Documentary category and Indonesian documentary film in Short and Student Documentary category. In its 16th year of implementation, the films that submitted to competition program is more various, in the contents or forms used in the creations with the participants. Besides that, the theme that being raised is also became so various, started from the most simple think and close with our daily life, up to several actual social-political problems. In the total, there are 152 films submission; 43 films in International Feature-Length Documentary category, 85 film in Short Documentary category,and 24 films in Student Documentary category. The curation process then eliminated some films and determined final films nominees with total of 17 film finalists with details 5 film finalists for Feature-Length Documentary category, 6 film finalists for Short Documentary category and 6 films finalists for Student Documentary category. Each film then reviewed by the jury board member on 9-13 December, 2017.
Steve Pilar Setiabudi and Irfan R. Darajat, twe out of three jury board member of Student Documentary category that presented in Awarding Night left a little note before announcing the winner. "This representation of student film is strong because of its form that doesn't use 'borrowed' statement in seeing universal theme. This film (Silent in the Crowd) had succeed in showing efficient and poetic visual in telling about an interesting subject. The subject existence as the main focus of the film is not trapped in victim's perspective. Even though, the subject in the film can be explored deeper," said Irfan as representation of Student Documentary category jury board.
Notes from Short Documentary category jury board members were delivered by Aditya Rizki Pratama as program coordinator of FFD 2017 – represented the jury board member who couldn't present that night. According to the jury, Ojek Lusi was worthy to be a winner because considered succeed in catching absurd images about life with good narration. The character that became main focus of the film interestingly showed, not subjected to their life problems. According to the jury board,the filmmaker has succeed in making the film with good visual composition and also succeed in picturing tight relation between the subject and did not exploited the subjects' hard life.
"This film showed an approach that did not sentimental, not focused in pitying the subject and left victimization, regardless the theme of the film," said Adit.
Hore Besok Libur as the production team of Ojek Lusi were giving more message after receiving their award. "Lumpu Lapindo tragedy had already happened since 2006 because of drilling that done by PT Lapindo Brantas. The mud kept flowed out and continues to expand, drowned 16 Villages. Just try to imagine, how large is that. Some victims who became tour guide after the tragedy, so if you come by there, you can see the impact of the ironic tragedy," said Winner Wijaya, director of Ojek Lusi.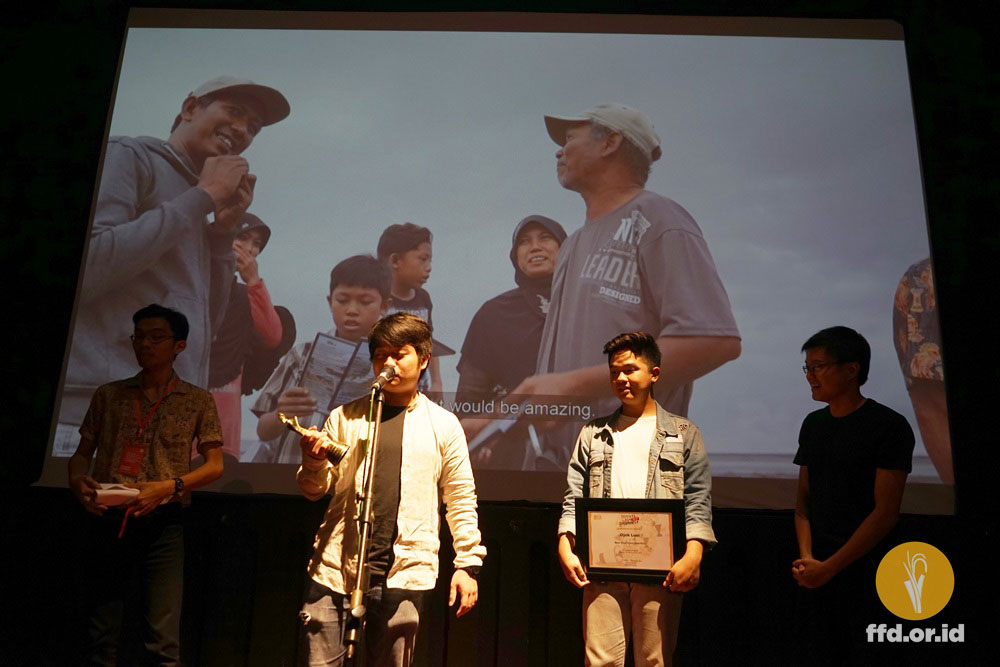 Sandeep Ray as the representation of Feature-Length Documentary was also delivered noted by the jury board related to the winner. ""I've Got the Blues" can be so interesting because Angie Chen as the director has succeed in showing another artistic side of Yang Wong, the film's subject, and narrated it beautifully with his relation with people around him. This film is a dynamic, rambling, enjoyable, and utterly honest film. Something that only can be achieved only through the long and close causes between the director and the subject, there is a game of tug-of-war between the subject reluctant to reveal about themselves and the lucidity in the action itself. The Director's frustration about the processes and the obvious involvement to get along with the subject," said Sandeep.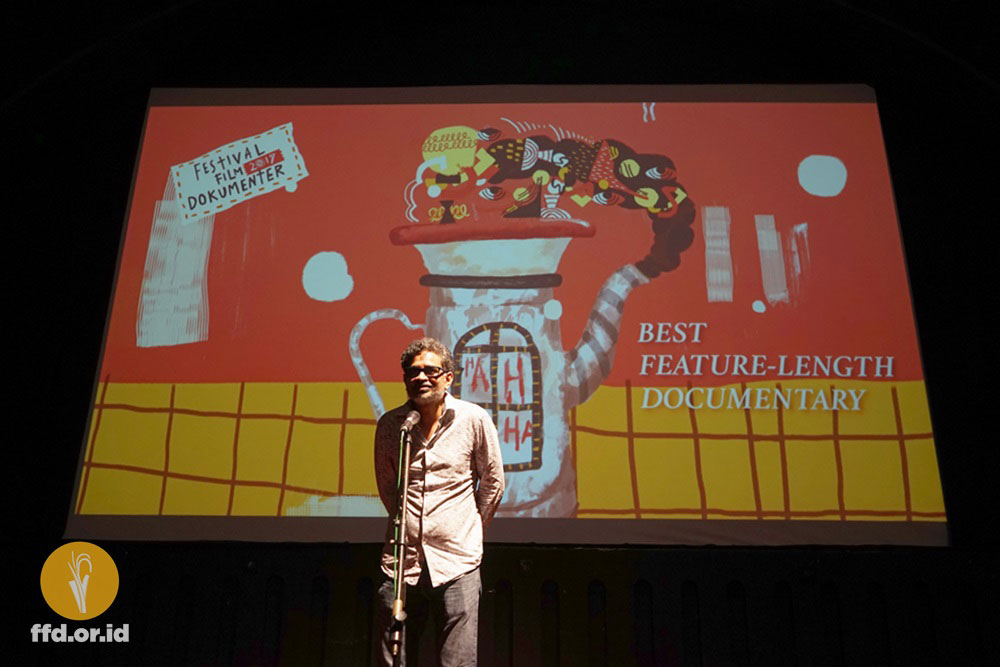 Angie Chen was giving a message to the young filmmaker in his winning speech. "I guess getting an award is a recognition that every filmmakers cherishes, and I see a lot of young filmmakers here today: follow your heart, be passionate make your films, and you will succeed, well, thank you very much," close Angie.
Jury Board of Feature-Length Documentary category was also gave a special mention fot "I Am Hercules" (Marcus Iacob, 2017). "This is beautifully melancholic movie, captures in a unique landscape of a valley. The uncommon and rarely explored theme brought up by filmmaker shows a story of three aging masseurs, how they try to cope with their age, loneliness, and everyday situation. Deep layers are successfully portrayed through their unique stories. Although, the film might be seemed too bleak for some viewers," said Sandeep.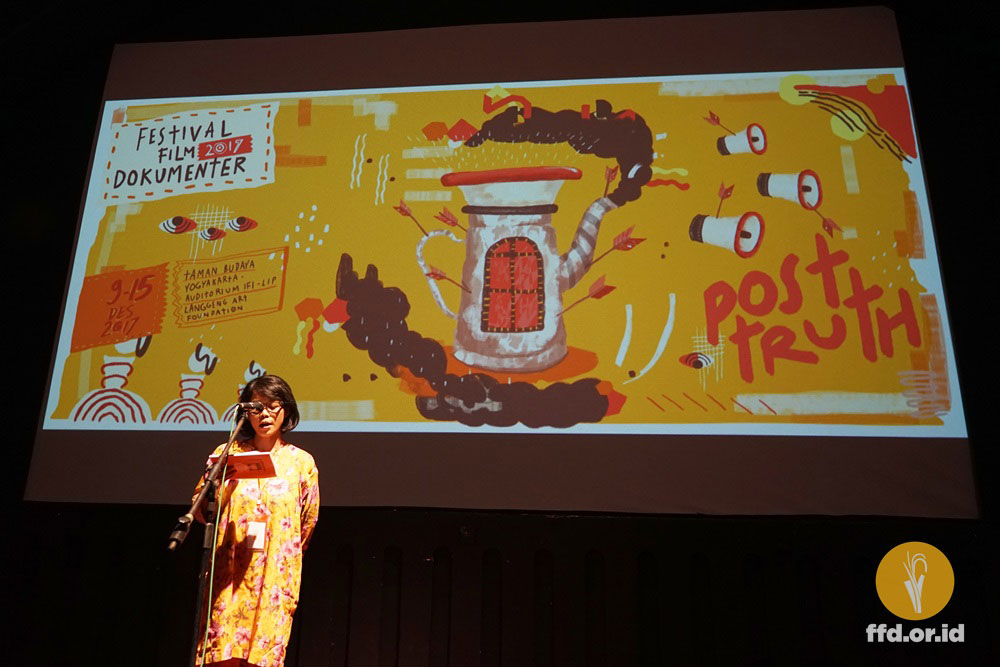 Before the awarding night ended, Alia Damaihati as the festival director of Festival Film Dokumenter 2017: 'Post-Truth', was giving speech to close the night. "In its journey as festival, like we all already know, documentary work needs a commitment and consistency. We believe that this is also agreed by you all. Every implementation needs partnership from every party to face the future challenge. Those are something which make spaces like this festival can still stand tall and keep growing up. So, lets build healthy work synergy, filling each other up, and supporting our mission together," said Alia.
In its six days of implementation, Fastival Film Dokumenter 2017: 'Post-Truth' had already screened 78 films from 17 cross-continent countries. Screening program was held in two venues; Societet Militair Taman Budaya Yogyakarta and Auditorium IFI-LIP Yogyakarta. Discussion and presentation program with 5 different topics was also already implemented; Documentary in the Post-Truth Era, Dear Memory: Facticity, Premiere Screening and Discussion 5 Islands / 5 Villages as the result of collaboration between FFD and Goete Institute, Presentation of Balada Bala Sinema, and Presentation of If/Then, in collaboration with In Docs. Festival Film Dokumenter 2017: 'Post-Truth' has succeed bringing in audience  in total of 2677 people in six days of the festival. See you in Festival Film Dokumenter next year.
The list below contains result of winner & jury special mention of Competition Program from each category:
Feature-Length Documentary: I've Got the Blues | Angie Chen / Hong Kong
Short Documentary: Ojek Lusi | Winner Wijaya / Indonesia
Student Documentary: Hening dalam Riuh (Silence in Crowd) |Qurrata Ayuni & Geubri Al-Varez / Indonesia
Feature-Length Documentary Special Mention: I Am Hercules | Marius Iacob / Romania